CREATIVE SOLUTIONS FOR SMALL APARTMENT STYLING
Our professional Property Stylists applied creative styling solutions to this tiny 35sqm loft-style studio apartment. Styling it in a way that will best compliment the property and appeal to the buyers' market.
1. Creative Solutions for Small Apartment Styling
Our property styling techniques and methods applied here can also be applied to any small area in your home. Areas such as the home office, nook or study.
Keeping in mind natural light, the colour of the walls and flooring, and looking out for any detail that may create the wow factor (focal point) for this tiny apartment, we set out to style this cutie.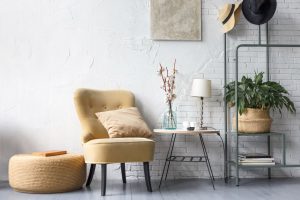 2. The Colour Palette
We kept the colour pallet soft and neutral, whilst incorporating soft splashes of colour by adding plants, teal coloured cushions and accessories. Lighter colours help reflect natural light pouring through the windows. The subtle pops of colour made the area feel playful and vibrant without dominating the space.
3. Using Versatile Seating Space
We used a light grey two seater-sofa with narrow armrests. A sofa with large overflowing armrests will take up too much visual space and make the area appear smaller. We want to create the exact opposite.
We opted for a single accent chair in the opposite corner and also incorporated a narrow console table that can serve both as a study desk or a  bench at which to have your meals.
4. Decorating a Lifestyle
Initially, the owner of the tiny apartment used this area solely as a rumpus/living area.
What have we successfully accomplished here?
a multifunctional area

living area

study/dining area

extra seating / a cute little nook

the area now looks larger too.
 A potential buyer can now see himself living here….
5. Accessorise Completes the Style
Accessorising completes a style and gives it character.
We used two smallish rugs. The round rug under the accent chair creates a focal point.
The rectangle rug (at the sofa) defines the "living area."
A side table is space-saving and can substitute as a coffee table.
Instead of artwork, use a wall mirror. Mirrors reflect light and create a sense of more space.
Add some plants. Plants (artificial or real) make a space more aesthetically pleasing. A tall plant will add height to the room.
Use small decorative items. Be careful not to clutter.
6. Creative Property Styling 
Perhaps you wish to style your home yourself?

Simply click here to

 enrol on one of our Property Styling Courses.