It may surprise you to know that one of the most important secrets to attract home buyers to your house is found outside – namely curb appeal.
What is Curb Appeal?
Curb appeal is that which potential buyers see first and foremost of your property.
It has the power to draw more buyers to your property and help you sell your house.
It reflects the expectation of what your home may look like inside, and ultimately bring more buyers through the door.
Curb appeal is the "billboard" message how well the house and yard are cared for and maintained.
Apart from being the first visual experience, a potential buyer may have of your home, it also reflects the ambience of the neighbourhood.
Three Levels of Curb Appeal
Keeping regular maintenance on the exterior of your house and garden up to date will certainly save you a lot of work when the time comes to selling your house.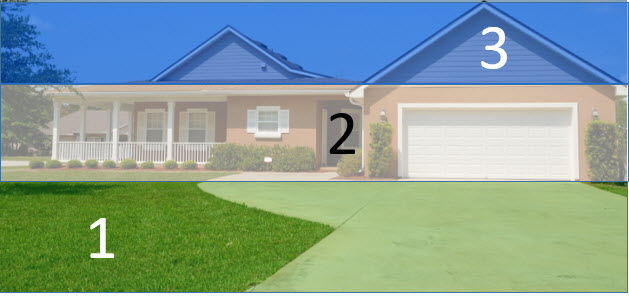 First Level – generally the whole garden area consisting of plants, flower beds, grass areas and pathways.
Replant "bald" patches of grass and keep the grass areas mowed and the edges neatly trimmed.
Trim hedges, trees and shrubs.
Ensure pathways are clean and litter free.
Remove dead plants and weeds.
Your Property Stylist or Real Estate Agent will be able to best advise you on landscaping your property or be able to refer a landscaper to you.
Second Level – sidings, the porch, windows, shutters, front door and entryway.

Repair, replace, repaint, clean and maintain –

Replace dead light bulbs.
Ensure the windows are clean. Inside and out.
No cobwebs are to be seen.
Dust and sweep.
Do not over accessorize the porch area.
Trim back overhanging plants and climbers.
Third Level – the roof, the gutters and fascia boards
Standing at the curb, scan your house from the bottom up. Assess, what else needs to be done to add curb appeal?
Repaint or replace fascia boards.
Ensure there are no overhanging branches.
Clean, repaint or replace guttering.
Ensure the roof is clean and maintained.
Give all areas a good wash using a pressure washer or hiring a professional to do the job for you.
Footnote
Improve the curb before listing your home for sale.
A well landscaped and maintained home will fetch you more sale value.
Let's Revamp Director and Property Stylist interviewed Real Estate Owner Morris Short.
Here is what he has to say about curb appeal – let's take a listen –