Style Cushions Like a Professional Home Stylist in 6 Easy Steps. This will assist and enable you to revitalise your home, add personality, interest and theme to a room, bringing it to life.
Styling with cushions is characterised by using an assortment of cushions of various colours, styles and textures to form a harmonious setting and complete living rooms, bedrooms and outdoor areas.
They are inexpensive decor accessories and are easily seasonal and colour interchangeable – and as for the DIY enthusiasts they are easy to sew too.
Step 1: Identify your colour palette
Draw colour inspiration from furnishings, wall art, curtains, accessories etc.
Identify two or three main colours – this will be the basis of your colour palette.
The cushions need only to have one (or all) of these colours somewhere in them to carry a central theme that you are already using in your home.
Step 2: Create Contrast
Add cushions with patterns such as lines, zig zags and circles etc.
Horizontal and vertical lines direct the eyes.
Using this strategically will "direct" the eyes to a focal point you wish to stand out or to be noticed.
Step 3: Combine Textures
Combining different texture cushions add interest, depth of field and serve as a focal point.
Step 4: Mix Cushion Shapes and Sizes
Combine different shaped and sized cushions to add diversity and attract attention.
Combining cushion with varied inner fillings will also add interesting combinations.
i.e. Some cushions may have a feather inner and be soft and snugly. Other cushions with a foam inner will appear more rigid and formal.
Step 5: "The Karate Chop"
To break up uniform shapes and to make cushions look more lived in, create a crease in the top middle of the cushion with a "chop" using the side of your hand.
Step 6: Follow your heart
It is important to follow your heart when it comes to styling with cushions. Trend matters, but in the end, you must happy with the look created.
Our client recently moved into a new home and needed help with decorating it. They wanted to incorporate colours that would bring vibrancy to space, and still maintaining an aura of calm, serenity and peacefulness. The result was truly transformational and our client extremely happy.
The Main Area:  open plan rumpus room – lounge and dining room area. The prime colours throughout the house are grey laminate wood flooring and white painted walls. A great canvas to work with since the colours are neutral and consistent throughout the house. So, what did we do?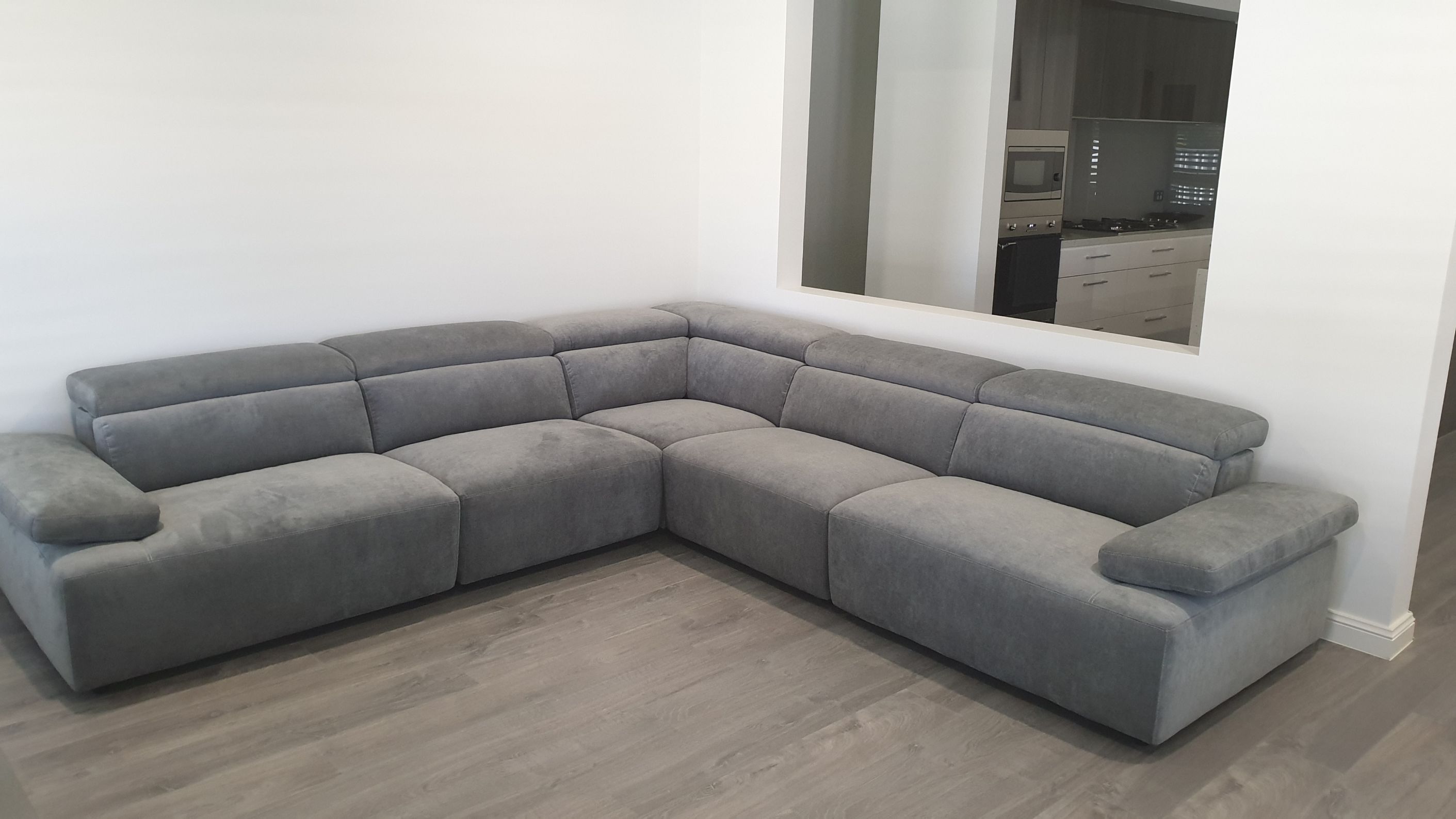 The Artwork
Delicate Australian florals inspired this beautiful artwork, painted in cool tones and warm watercolours. This produced a wonderful soothing ambience and an amazing palette we could work from throughout the open plan area.
The Cushions
Working with the colours in the artwork we added square earthy pink decorative cushions which had a short fringe all around. The material was a soft woven burlap which added texture. The rectangular lumber cushions are an earthy natural brown ochre colour with some bold horizontal and vertical darker stripes. These cushions were of a softer cotton texture, and their difference in shape and size added style and a homely lived in and welcome look. To achieve the "lived in" look we added the proverbial "karate chop" in the middle of the cushions. Interesting to note that the vertical and horizontal stripes of the lumber cushions resonate with the brown wooden frame of the artwork. The earthy pink burlap throw brought it all together and complemented the decorative cushions and styling.
From the Rumpus Room to the Living and Dining Area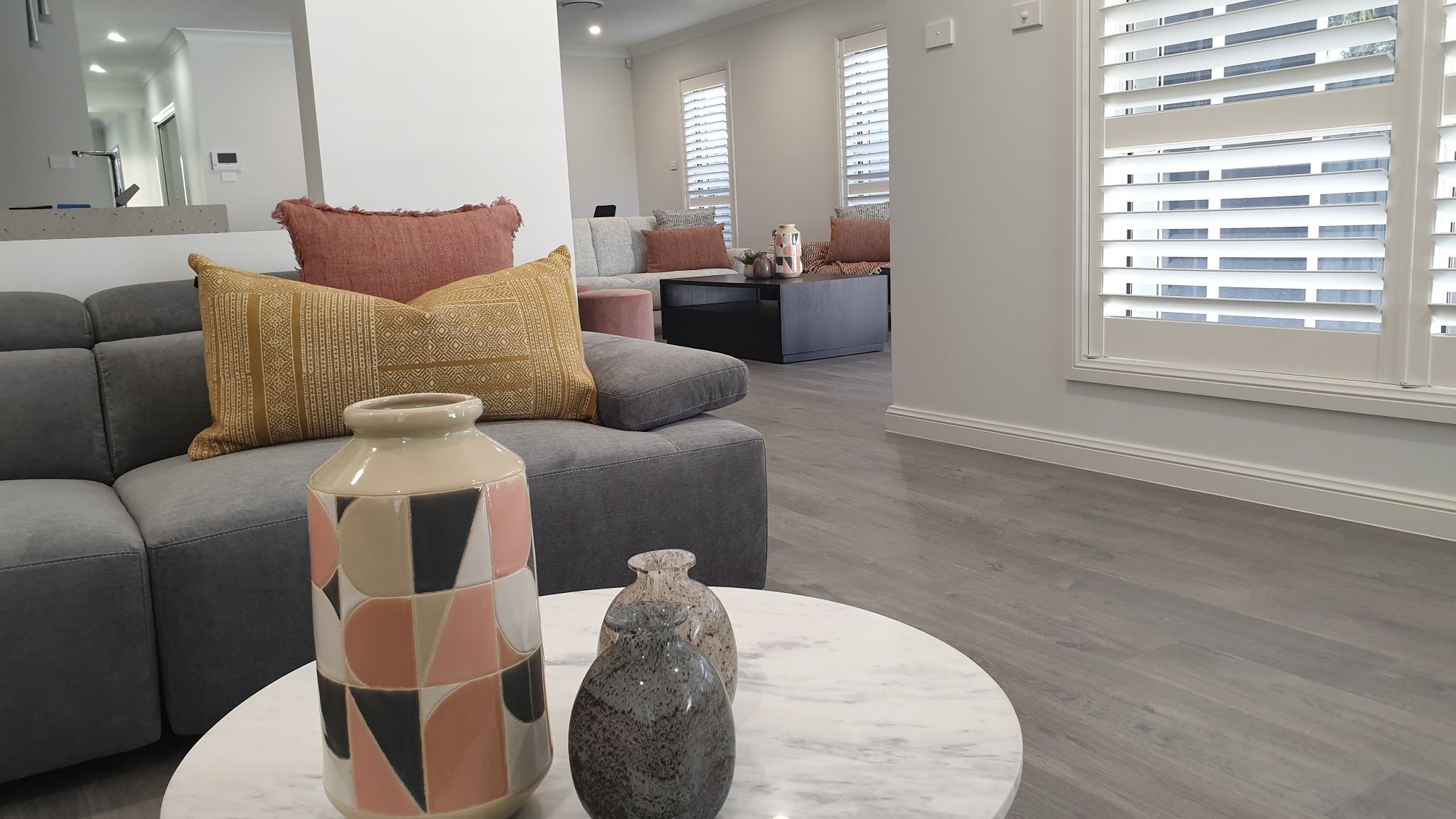 To establish cohesiveness between the open plan areas, the colour palette used in the rumpus area was replicated similarly in the living/dining area.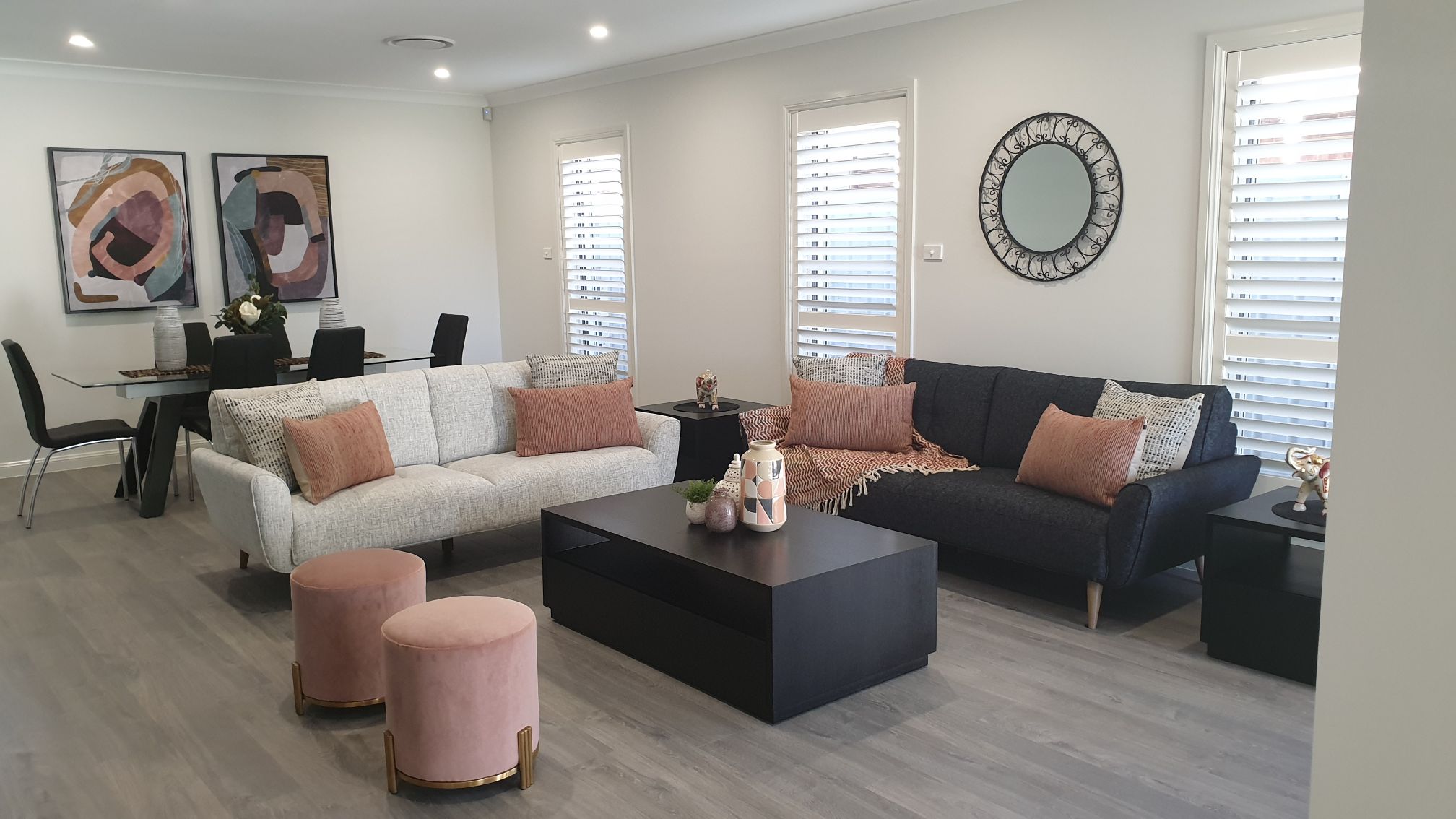 For more inspirational ideas please visit us on
Houzz
 or subscribe to our monthly newsletter on 
Let's Revamp.